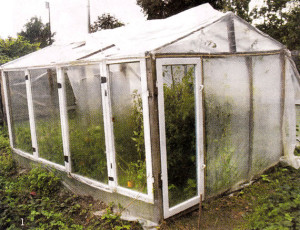 Where only did not go to the old window frames, which are due to mass replace conventional glazed windows now just unreal lot. That is one option.
Several years ago, we changed the windows in the house. The old frame gathering dust in the attic, until he finally decided to make a greenhouse out of the window frames, or rather, an unheated greenhouse. Figured perimeter (the number of frames on the width), the area (based on the proportion of the width and length of the 1: 2), and set to work.
First I dug and poured the foundation of a small depth of 20-25 cm, which is raised above the ground beside cinder block. On the front side of the cinder blocks in the opening left by the door. Between the foundation and cinder blocks Waterproofing layer made of the material. This foundation will greatly reduce the contact of wooden frames with the ground will enhance the level of compost in a greenhouse, and will prevent germination of weeds outside the greenhouse.
At the bottom of the cinder blocks packed boxes from windows (they were my oak), using their finger joints. The corners are further connected with metal corners. In several places of the frame to the cinder block attached via turboshurupov, zapenil gap with foam.
In the corners of the greenhouse into a pre-set left slot 4 uprights of the side walls of the window frames. Top boxes tied wooden bars 4×4 cm. In the same timbers made a further strengthening of the structure on the upper corners and the middle strut greenhouse. Established fitted door frame and began to fill the resulting construct window frames.
Frames with air vents, it is desirable to establish on the one hand to avoid drafts in the greenhouse. Somewhere between window frames used carefully fitted boards. Rama sealed to each other and attached to the box nails. Zapenil formed cracks, small cracks filled with silicone.
Decided to make a gable roof, it holds less snow and moisture and therefore less slack. For the ridge beam used 6×8 cm, and for the cross beams -. 4×4 cm timber To extend the service life of the film removed all sharp ends of the bars, and in some places they felt wrapped. Greenhouse cover with foil, firmly seated on the perimeter bars. With minimal cost and short lines, our greenhouse ready.
This greenhouse is well suited to growing tomatoes, cucumbers can be grown vegetable and flower seedlings, early vegetables, rooting cuttings.
Hotbeds of the old window frame with his hands, photo, manually make a small greenhouse for tomatoes as to build a greenhouse at home on the site or in the country under the seedlings, the instruction description.